Articles & Product Information
Click Below to Link to Information or Scroll Down
Getting To Know The Manufacturers
The Parts Of A Fireplace Tool Set
Finish And Material Information
Measuring For Fireplace Screens & Enclosures
A Brief History Of Fireplaces Down Through The Ages
Power Out! Use Your Fireplace For Heat
How The SkeeterVac Mosquito Trap Works
Please Be Safe Whenever You Are Around Fire!
Getting To Know The Manufacturers
Minuteman International has been serving the Hearth, Fireplace and Woodstove industry since 1977. Their goal is to provide good quality products at very attractive pricing. The designs they use for their fireplace tool sets have been inspired by the traditional European ironwork of the past five centuries. All fireplace products are handcrafted by the traditional hammer and anvil method. Each fireplace tool set is individually hand-forged and hand-welded to their exact specifications.
In 2004 the Williamsburg Collection was introduced, offering fireplace tool set reproductions as well as 17th and 18th century inspired designs for the contemporary home.
In 2008 Minuteman International also acquired the Adams Fireplace Accessories line of products. Founded in 1883 Adams started as an iron foundry, making cast iron parts for a wide range of products and users. Initially the primary product line centered on cast iron and steel building and home products. These included stove repair parts, dampers, decorative fireplace accessories, ornamental railings and building products.
In the early 1900's Adams manufactured the Adams-Farwell automobile, an innovative and expensive car. The rotating 3 or 5 cylinder engine designed by the company for the car became the model for the Rhone aircraft engine of World War I fame. The one remaining car is at the National Automobile Museum in Reno, Nevada.
Adams commitment to making quality products goes back to their founding. To ensure durability they use heavy solid brass or steel. Adams fireplace handles are designed to fit the hand. Each handle is permanently bonded to the rod so it will not come loose with use. Their fireplace tongs are designed so logs are easily manipulated. Solid rivets assure that the tongs work smoothly and will not rattle or come apart. Adams fireplace shovels are solidly riveted and generously proportioned. Adams stands are balanced with broad heavy bases, designed with enough weight to anchor each fireset so it will not tip. Through generations their heritage has prevailed and their fireplace accessories are dedicated to beauty and quality, form and function.
Uniflame Corporation, a subsidiary of the Blue Rhino Corpoartion, is one of the nation's leaders in supplying fireplace tools, fireplace screens, fireplace accessories, outdoor fireplaces, patio fire pits, SkeeterVac's mosquito traps and patio heaters. Uniflame uses solid brass, finished copper and cast iron materials, providing the highest quality in product and safety standards.
blomus® is the brand name for design in stainless steel by sks design, Germany. sks design was founded in 1921. Today it employs about 700 people in its various operating companies and is run as a family owned business in its 4th and 5th generation. Its main lines are air-pumps (world's leading manufacturer) and mudguards for bicycles. In Spring 2001 the brand blomus was established by the company to innovatively manufacture stainless steel ware using modern design which was crafted exclusively for sks design. Today blomus manufactures around 500 products covering every room in the house and even outdoors. ToolsForFireplaces.com is proud to carry the blomus line of products relating to indoor and outdoor fireplaces.

Enclume Enclume (pronounced "Ahn-Kloom"), located in Pt. Hadlock, WA, construct their products by combining the traditions of skilled metal crafting and close attention to detail. Their products are all hand crafted in the USA by skilled craftsmen and are completed in small lots of 30 to 60 to ensure the best is quality control. They purchase the best hot-rolled steel available which is ideally suited to reveal the rich, distressed look of their signature finish. For 30 years they have been crafting the finest products and ToolsForFireplaces.com is happy to be able to provide you with a selection of their beautiful fireplace pieces.
Johnny Beard Company Johnny Beard Company, located in Tulsa, OK, is the leading manufacturer of fireplace bellows. They are dedicated to making the best products with the most innovative designs thus "bringing warmth and charm to homes around the world". For over 30 years expert craftsman, Johnny Beard has been making the finest quality products in his shop in the USA. His bellows are made with the highest quality full-grain and suede leather and fine wood with brass nozzles and nails. ToolsForFireplaces.com is very proud to be able to carry the Johnny Beard line of fireplace bellows.
Pilgrim Home and Hearth Pilgrim Home and Hearth was founded over 50 years ago in Northern California and specializes in grates, screens, toolsets, log holders, wood holders, log carts and other hearth fashion products. They offer three brands: Pilgrim, Smithsonian Institution and Napa Forge. They metal working knowledge is removed and ToolsForFireplaces.com is honored to be carrying their line of fireplace products.
The Parts of a Fireplace Tool Set
Relaxing next to the hearth is an enjoyable and cherished activity in the home. In many homes the fireplace is the focal point of the room. To make and maintain that perfect fire and also to keep the hearth area clean you need the right fireplace tools. But what are those fireplace tools and how do they work? Here we set out to help you understand the tools that are part of most fireplace tool sets.
The Stand (or Rank): This is the piece that holds and stores all the fireplace tools together. By having all the fireplace tools in one place it is easy to grab whichever one you need and go to work. Many times the Stand is the piece that is designed to make a traditional/vintage or modern/contemporary statement.
The Broom (or Brush): This is one of the cleanup tools in your fireplace tool set. Depending on the fireset you pick this fireplace tool may look like a broom or a brush. This fireplace tool is used to sweep the hearth after you are done with your fire. No matter how careful you are, invariable bits of wood and ash end up outside the fireplace and the broom is the fireplace tool to handle this problem.
The Shovel, Scoop or Hoe: Fires cause a lot of ash in the fireplace. Eventually at some point you need to get that build up of ash out of the fireplace. The shovel is your fireplace tool of choice for getting those ashes out of the fireplace. The size of this fireplace tool is designed for ease of maneuvering inside the fireplace. That is why you will often find this fireplace tool in very different sizes and shapes. Always remember to wait until the fire is completely cool before cleaning out the fireplace.
The Poker: This is the handy fireplace tool to keep the fire burning. The poker has a pointed end with a hook for helping move the logs around when the fire threatens to die down. Much better than trying to use your hands!
The Tongs: This fireplace tool is used when your fire is going but also when the fire is over. When you have the fire going this is a tool that can be used to turn logs in the fire when it is necessary to keep the fire going. It can also be used to remove the remains of burned logs when you are cleaning the fireplace out after the fire has stopped burning and has cooled down. This particular fireplace tool comes several different functional designs.
Please Be Safe Whenever You Are Around Fire!
Finish And Material Information
Below you will find various descriptions and definitions that will help you understand the type of finishes and materials used to construct your fireplace tool set. Please be aware and understand that the colors represented in any pictures or samples contained on our site may vary from the actual color of the product and should serve only as an approximate color representation for the products shown.
Powder-coating - is a type of dry coating which is applied as a free-flowing, dry powder. The coating is typically applied electrostatically and is then cured under heat to allow it to flow and form a "skin". It is used to create a hard finish that is tougher than conventional paint. Powder coating is mainly used for coating metals. If a particular fireplace tool set says it is powder coated a certain color or metal this means the paint color of the powder coating will give it the look of whatever metal or color is mentioned.
Wrought Iron - is commercial iron containing only a very small amount of other elements giving the iron its characteristic grain. Wrought Iron is no longer produced on a commercial scale. Therefore, our wrought iron fireplace tool sets are created the old fashion way - hand-forged wrought iron.
Brass - is an alloy of copper and zinc. It has a muted yellow color, somewhat similar to gold. It is relatively resistant to tarnishing and is often used as decoration. You will find some of our fireplace tool sets that are completely or have parts that are either solid brass or brass plated.
Chrome Plating - often referred to simply as chrome, is a technique of electroplating a thin later of chromium onto a metal object. The chromed layer can be decorative, provide corrosion resistance, and sometimes increase surface hardness.
Stainless Steel- is defined as a steel alloy with a minimum of 10% chromium. Stainless steel does not stain, corrode or rust as easily as ordinary steel but it is not stain-proof. Its resistance to corrosion and staining, along with its low maintenance, relative inexpense and familiar luster, make it an ideal material.
Steel- is an alloy consisting mostly of iron.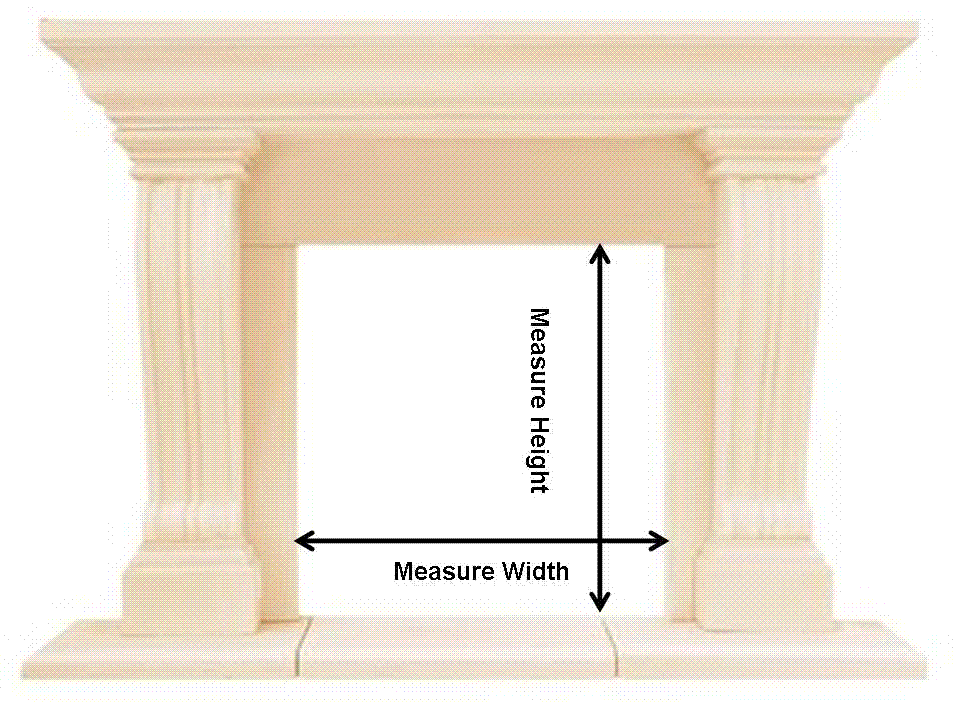 Measuring for Fireplace Screens & Enclosures
While many fireplace screens are bought to enhance the beauty of the fireplace and the room if your main purpose for buying a fireplace screen is to keep the sparks out of your room then you need to know how to measure for the correct size screen. Sizing is very important in order for the fireplace screen to do the job it was meant to do.
Single Panel Fireplace Screen - be sure to measure the height and the length of your fireplace opening. Then look for fireplace screens that are 1-2 inches wider and taller than the opening. This is to ensure that sparks do not get beyond the screen and into the room.
Folding Panel Fireplace Screens – because these screens fold you need for them to be 10-12 inches wider than the fireplace opening so you can fold them enough to ensure that they do not tip over. You want them to cover the entire opening. Also make sure they are 1 – 3 inches taller than the opening.
Please keep in mind that not all fireplace screens are designed to keep the sparks out of your room. Obviously the decorative screens that do not have any barrier are purely for decoration. Glass fireplace screens can also cause a problem. Some glass fireplace screens are for decoration only because their glass is not tempered. And stained glass fireplace screens are for definitely for decoration only. Just make sure before you buy a fireplace screen that you know why you are buying it (decorative, functional or combination of both) and you know the correct size to get.
ENCLOSURES

Use the chart above as the guide to measure the dimensions of your masonry fireplaces opening. Use these measurements to find the size in the chart on each Enclosure item page to determine the item number to purchase for the correct size Glass Enclosure for your fireplaces opening.
Fireplaces are everywhere in today's world and we take them for granted. But when did they begin? How have they changed over the years? And what is their status today? These are some of the questions we will set out to answer in this Brief History of Fireplaces Down Through The Ages.A Million Years AgoThough we may think of fireplaces (translated from Latin as a "hotbed") as an invention that has evolved over the last few hundred years, they have been used by every culture in the world in some form or other for over 1 million years. The first fire pits dug by the caveman are considered fireplaces even though they were simple holes placed in the ground or in their caves. These "fireplaces" were used for warmth on cold days and nights along with cooking. They were also the center for the gathering of people. These fire pits were in the center of an area. This allowed for the maximum number of people to gather around and experience the heat. The problem with a fire pit in a cave or any other enclosed structure is you need a way to let the smoke escape. With the first straw huts the smoke was able to escape through the tiny opens in the straw. Or, as in the case of Indian tipis, an opening was placed in the top of the structure to let the smoke escape. This lasted for thousands of years.
1100's
Around the 1100's the fireplaces moved from the middle of the dwelling to a position against a wall and in this century the chimney began to come into use. About this time you start seeing fire hoods (is this time true???). At first these were purely functional but eventually took on an ornamental purpose also.
1500's
When buildings started having second stories people wanted fireplaces on the second floor also. These early fireplaces vented the smoke out of the building horizontally and since smoke wants to move vertically it was just as likely to come back into the room. Now the real use of the chimney came into play. This device allowed the smoke to rise vertically and flow out of the building. The first and second floors would share a common chimney structure. The chimney was a critical innovation. About this time architects began to seriously study fireplace design.
1600's
Sir Christopher Wren, one of the greatest English architects and the re-designer of St. Paul's cathedral in London, began to design fireplaces to go with the look of the room. Under Wren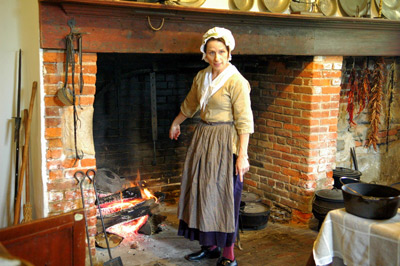 fireplaces were no longer objects with no design ties to the rest of the room. Now the fireplace became an architectural feature of the room. In 1678, near the end of his life, Prince Rupert of the Rhine, a nephew of Charles I of England, discovered that raising the frame used for holding the burning fuel allowed more air circulation. Now the air could get underneath the fire and fuel it. His design also included a switchable baffle to allow the air to flow up, then down, then up again. This meant that hot gases had longer to travel before being completely burnt thereby producing more heat.
1700's
In the 1740s a prominent American, living in Philadelphia, named Benjamin Franklin invented a unique stove that became known as the Franklin stove. This moved the heat source back into the middle of the room which helped in heating the whole room more evenly. The stove was made out of cast iron. This continued to radiate heat long after the fire was out. The stove had more advanced features than Prince Rupert's discovery. The Franklin stove allowed the hot gases to travel even further and this was more heat efficient. A heat vent at the top allowed the heated air to escape into the room. This provided convection along with radiated heat.
The Franklin stove had a flaw though. The smoke was vented from the bottom and air could not be drawn in. Another Philadelphian named David Rittenhouse added an L-shaped stovepipe to move the air through the fire and vent the smoke out through the chimney. This vastly improved the performance of the Franklin stove and by the end of the 1700's the stove was being used throughout the new country.
In the late 1700s Count Rumford (Sir Benjamin Thompson, born in the United States and later moved to Bavaria) designed the first fireplace with a tall and shallow firebox. The firebox reflected heat more efficiently and provided a much better way for smoke to escape. Count Rumford's design is considered the foundation of modern fireplaces. His design led to a decrease risk of chimney fire and allowed the chimney to be placed in the wall of the home. Before this chimney's were designed to be kicked away from the home when they caught fire!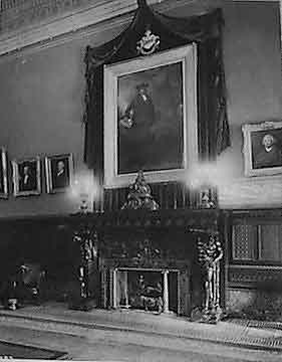 The industrial revolution led to large scale housing developments that brought about the standardization of fireplaces. The best known fireplace designers of this time were the Adam Brothers architects. They perfected a style of fireplace that was used for generations. It was a smaller and visually lighter fireplace and emphasis was placed on the quality of the materials.
1800's
By this century the basic structure of the fireplace was in place. It consisted of two parts – the surround and the insert. The surround is the mantle and sides and was usually made of wood, marble and granite. The insert is the part of the fireplace where the fire is burned. This part was constructed of cast iron and sometimes decorated with various tiles. The Victorian era viewed fireplaces as adding a cozy, quaint environment to homes. A beautiful fireplace added a touch of class to the home.
Mid-20th Century
With the introduction of central heating the fireplace became more of a decorative statement in the home rather than a source of necessary heat. Today a fireplace in the home provides heat and an architectural element. In many homes the fireplace is the center for social gatherings. They are appealing since they add a certain amount of style to a home. And who doesn't find a fire mesmerizing and relaxing. In our post industrial, modern society their purpose has evolved from providing necessary heat and cooking to a symbol of warmth and love.
History of Fireplace Tools
Many different tools are used when it comes to building and maintaining fires in home fireplaces and each one of these tools has a different story to be told as to how they came to appear on your fireplace hearth. This history will deal with the andiron, bellows, pokers and screens. Also included with fireplace tools are shovels, tongs, brushes but it is rather hard to determine how and when these particular tools began to be used.
To begin our discussion let's start with the definition of tool. This is a device that provides a mechanical advantage in accomplishing a physical task. Archeology has determined that man was using various tools from the beginning of our existence. A tool can be as simple as a stick used to poke at something to reach and move it.
Poker
With that in mind let us start our exploration of the history of fireplace tools with the poker. A poker, also known as a stoker, is a short, rigid rod, used to move the burning material in a fire. Today's pokers are usually made of metal with a point at one end for pushing burning material and a handle at the other end. Archeology shows that we have used pokers as a tool with fires since the Paleolithic period. This period is the prehistoric era noted for the development of the first stone tools. It covers the period from 2.5 or 2.6 million years ago until around 10,000 BC with the introduction of agriculture. It represents the greatest portion of human time on Earth (about 99% of human history). Archeologist think that pokers were invented right after the discovery of fire (790,000 years ago) and the earliest pokers were most likely of the same material as the fuel for the fire - that is wood. At the beginning the poker, or "firestick" was probably a large branch of some type used to help keep the fire going.
Down through the ages this tool has evolved and as other tools were used the poker has gone in and out of favor. Up to the 17th century in England you might find only a fire fork and andirons for the fireplace but by the 19th century a fireplace poker was always used and the fire fork had almost disappeared.
The first successful mass production of pokers as a part of an entire fireplace set was designed and manufactured in Cape Girardeau, Missouri by the RL Hendrickson Manufacturing Corporation in 1898. From that time until now the poker is almost always considered a part of the assemble of fireplace tools.
"By fire-irons...the housekeeper and the ironmonger understand a fire-shovel, poker and pair of tongs. These implements were not all of them found upon the ancient hearths of this country; nor were they all necessary when wood was burned upon a fire-place...The use of pit coal, and of close fire-places, let to the adoption of the poker now in universal requisition." Robert Hunt, A Treatise on the Progressive Improvement and Present State of the Manufactures in Metal, 1853.
Andirons
An andiron is a horizontal bar upon which logs are laid for burning in an open fireplace. They usually come in pairs. They hold up the firewood so that a draft of air can pass around it and allow proper burning and less smoke. Andirons stand on short legs and are usually connected with an upright guard.
As man began to study fire and its properties in earnest it was discovered that allowing the circulation of air around the fire led to better fires. Because of this discovery andirons became more and more popular. In the 16th to 18th century AD they were also used as a rest for a roasting spit or to hold porridge.
Before the 14th century andirons were almost always forged from wrought iron and were very plain. During the period of the Italian Renaissance (14th to 17th centuries AD) many ordinary objects of the household came to the attention of artists and design and skill were used to product andirons. The andiron reached its most artistic development under Louis XIV of France (late 1600s). The guard (the upright portion of the andiron) was elaborately ornamented. Patterns consisted of heraldic symbols, sphinxes, grotesque animals, mythological creatures and much more.
Sometimes andirons were referred to by the creature they portrayed. One example of this that continues to this day is firedog. Andirons that portrayed dogs were called firedogs. This plays on the dual meaning of the word dog (canine and inanimate holder). In some areas firedog began to be used to refer to any andiron. In the United States andiron was once used only in the North and dog iron, firedog or just dog was used to identify andirons in the South. The Southern term is still used in that region but andiron is now used everywhere.
"Fire-lighting, however simple, is an operation requiring some skill; a fire is readily made by laying a few cinders at the bottom in open order; over this a few pieces of paper, and over that again eight or ten pieces of dry wood; over the wood, a course of moderate-sized pieces of coal, taking care to leave hollow spaces between for air at the centre; and taking care to lay the whole well back in the grate, so that the smoke may go up the chimney, and not into the room. This done, fire the paper with a match from below, and, if properly laid, it will soon burn up; the stream of flame from the wood and paper soon communicating to the coals and cinders, provided there is plenty of air at the centre." Isabella Beeton, Book of Household Management, 1861.
Bellows
The bellow is a mechanical device for creating a jet of air. It usually consists of a hinged box with flexible sides, which expands to draw air in through an inward opening value and contracts to expel the air through a nozzle.
The bellow was used extensively in medieval Europe (5th to 16th century). It was used to speed combustion for a blacksmith and later to operate pipe organs. One of the simplest and most familiar types of bellows is the manual one used with fireplaces. The expandable chamber consists of a leather bag with pleated sides. The bag is fixed between handles to expand and contract. The inlet and outlet vents are provided with values so that air must enter through the first and leave through the second. Thus the bellows becomes a simple air pump.
When we think of fireplaces we usually think of these simple bellows. But bellows have had a major role in history. Metal smelting was not possible until after the invention of the bellows which made the fore possible. Bellows deliver additional air to fuel and raise the rate of heat output which is needed for smelting. Around 3000 BC hand operated bellows were used for metal smelting (bronze). The first evidence of iron smelting is around 930 BC.
Though early man did not need to get their heating and cooking fires up to the temperatures needed for smelting they did discover that bellows made fire building easier. Stoking kindling with a bellow produces a hotter flame and logs start much quicker. This is especially important when you are working with wet logs. Also, bellows were used early on to create an airstream to blow ashes out of the fireplace when cleaning.
Today bellows are still a necessary tool on the fireplace hearth. It is also a tool that many people like to design and make on their own. Many bellows are made out of beautiful wood and can have very intricate designs creating an elegant object on display by the fire.
Fireplace Screens
Though there is no exact date for when fireplace screens came into use we do know that they were first a form of furniture that shielded individuals from any excess heat that was coming from a log burning fireplace. Early fireplace screens usually were shaped as flat panels standing on attached feet, or as adjustable shield-shaped panels mounted on tripod table legs.
Today's fireplace screens come in many decorative designs and are made out of metal, glass or wire mesh and are placed in front of the fireplace to protect the room from flying embers that may come from the fire. Sometimes they are used to cover the fireplace when not in use to make the area more decorative.
Whatever tool you use to help you build and maintain your fire, know that there is a long history behind each one of those tools and centuries of use has gone into perfecting the tool in your hand. And remember that in modern society fire has evolved from providing necessary heat and cooking to a symbol of warmth and love shared by all that gather are the fireplace hearth.
Please Be Safe Whenever You Are Around Fire!
Power Out! Use Your Fireplace for Heat
Winter means bad weather in many parts of the United States. And bad weather means power failure for many people. In cold weather be prepared to use your fireplace or woodstove to keep your home warm until your power is restored. What do you need to do to be prepared? Here we will review what you need to do in preparation along with what to do in the midst of the power failure and also after the power has been restored.
Be Prepared! Long before you lose your power you need to be ready for it. You never know when the power will go out (or how long before you get your power back).
Here's your To Do List for preparing your fireplace before the power failure:
Stock up on whatever fuel source you use in your fireplace or woodstove.

If it is wood, make sure you have split and stacked it properly allowing for good air circulation while keeping it dry so it will age properly.

This will allow your fire to burn hotter and minimize the buildup of creosote while making it easier to start and maintain your fire. Also have a good supply of kindling on hand such as Fatwood.

Make sure your fireplace or woodstove is in good working order.

If you are not sure, call in a professional to have it inspected.

You may have to use your alternative heat source non-stop

for many days.

Have quality fireplace tools, fireplace screen and fireplace accessories.

You will be using them ALOT!

If you don't have them, invest in them NOW!

They will make your job significantly easier and fire building safer.

Here are some key fireplace items and why you need them:
Fireplace Tools (Shovel, Poker, Tongs and Brush) - helps in the ease of building and maintaining fires and the cleaning of the fireplace after use.

Much safer than trying to reposition burning logs with your hands!
Fireplace Screen - critical item to prevent embers from flying out of the fireplace and still allow that necessary heat to flow into the room.

You want to prevent starting a house fire caused from a spark flying out of the fireplace and landing in the room.
Fireplace Bellow - building a fire is critical when you have a power failure and you do not want to be struggling to get it started.

Fireplace bellows easily provide the oxygen rich air that helps to get that fire going.

A good flow of air is critical for a successful fire

.

Fireplace Andirons - It was discovered many centuries ago that if your fuel material is up off the ground the fire burns better and with less smoke.

Andirons keep your logs off the floor of the fireplace and the vertical front piece of the andirons hold the logs in place and prevent them from rolling out of the fireplace.

Fireplace grates can also accomplish this task
Fireplace Log Holder - this will allow you to keep extra logs by the fireplace.

The fewer times you have to open the door to the outside to get more wood the better.

Every time you open the door you are letting cold air into the house.

Keep it to a minimum by stocking logs in your fireplace log holder.

Get these items stocked and in place before a power outage so you can build the easiest, best fire possible when it is critical to have one.

Practice building a great fire before the power failure:
Make sure your damper is open.

Place tinder (crumbled paper perhaps) on the fireplace floor between the andirons.

This is material that will catch fire instantly.
Place kindling such as Fatwood on top of the tinder.

This is material that will catch fire from the flames of the tinder.

If the flames are not taking off don't forget to use your fireplace bellow to help the fire get going.

Keep it going by adding wood from your fireplace log holder as needed and keep the burning logs stacked properly by using your fireplace tools to reposition the logs as they burn down and shift.

When not working on the fire keep your fireplace screen in place to prevent fire embers from entering your room.

Your power is out.
When the power comes back on:
You may want to continue your fire as your heating system begins to heat the whole house.

Keep in mind if you have only one thermostat and it is in the heated area then you will want to open the doors to the closed off rooms so the heater will kick on.

If this does not cause your heater to start you may need to raise the setting on the thermostat to above room temperature to get it to start.

Once the need for your supplemental fireplace heat has ended let your fireplace cool completely (this may be longer than 24 hours) before you clean your fireplace using your fireplace tools and prepare it for its next use.
The purpose of the SkeeterVac is to attract and trap female mosquitoes. Research has shown that mosquitoes are attracted to movement, stripes, heat, sweat, CO2 and humidity (moisture), all criteria the mosquitoes use to search for a meal. The SkeeterVac is designed to provide these six features to make the SkeeterVac very attractive to mosquitoes. There are several ways these features are accomplished. Propane, from a tank you provide and attach to the unit, burns in the upper compartment of the SkeeterVac. This creates the heat and CO2 along with water vapor that, when combined with an insect lure, creates a simulation of sweat and attract the mosquitoes. A fan distributes these scents subtly into the surrounding atmosphere causing mosquitoes to sense that a meal is near. To reinforce this illusion, blinking LED lights trick the mosquito into believing the creature is moving about. Near the LEDs is a fan that sucks in air and permanently captures the mosquitoes in a removable drawer for easy cleaning. Also the unit itself is surrounded with black and white stripes that create the look of animals or humans to the mosquitoes. This black and white surface is sticky paper that also captures some of the mosquitoes. All of these features reduce the incidence of mosquito interaction in your immediate area and will significantly reduce your mosquito population within 3 – 4 weeks. This allows you to enjoy your outdoor time without worrying about unpleasant mosquito bites.

In summary below are the six attractants that your SkeeterVac uses to capture the mosquitoes: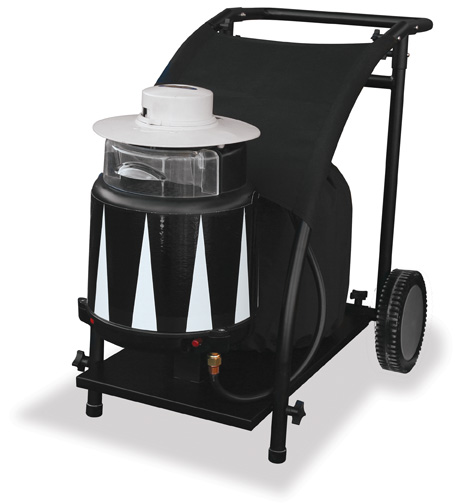 1.

CO2 generated and disbursed by the unit

2.

A sense of movement created by the LED lights

3.

Stripes featured on the outside of the unit to simulate an animal or human

4.

Heat created in the unit by burning propane

5.

Simulated sweat provided through the heat and the insect Lure

6.

Humidity provided by the unit
There you have it. With some good preparation, the next time you have a power failure you will be prepared to use your fireplace to stay warm. Whether it is a few hours to over a week before you get power back on (depending on how wide spread the outage) if you have prepared properly you will have heat.

CAUTION!! Do not bring into your home or garage BBQs, gas fueled generators, or any other heat generating devices that are designed for outdoor use. People have died from the undetected gases given off by some of these devices. Please use caution and be safe when you lose your power and need heat.